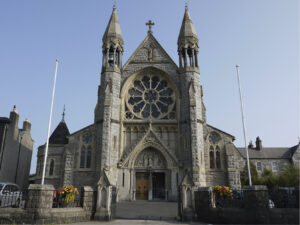 Archbishop Farrell has set up a
Task Force under the title of "Building Hope". 
The Building Hope Task Force aims to stimulate engagement with the whole diocesan family and shape an inclusive approach to a pastoral strategy appropriate to our times.  It is intended to support parish communities to undertake a radical renewal, looking to the future with creativity, enabling the Archdiocese of Dublin to act now, to give an effective service in the years ahead.
You and you family are invited to take part in this consultation.  Please watch the video from Archbishop Farrell and join with your family to pray/discuss the future of the Church together. 
https://dublindiocese.ie/taskforce-request-for-contributions/ 
It is hoped that you might nominate one member of your family to fill out the the contributions form on our website. this form will remain online until the 18th July 2021.
Dear Parishioners, St Joseph's needs YOUR help.
We are hoping to raise enough donations of support. Setting up a small standing order is a simple and effective way of contributing regularly. St Joseph's Church receives tax credits on any payments over €250 which is very beneficial to your Tax.
A regular income allows The Parish Priest to plan capital expenditures to upkeep + maintain our Church. We can send you a form, or drop in, or simply call The Parish Centre 01 6638604 Or online:
St Joseph's Glasthule has created a Donation tab to facilitate payments to the Parish fund, the 1st Collection (Common Fund) and the 2nd Collection (SHARE).  
All donations will be acknowledged. Parish Donations go directly to St Joseph's for the upkeep of the Parish and the Parish Centre.
St Jospeh's Church Registered Charity Number is RCN 20016166
ACCORD Dublin has a new website. 
For Sacramental Marriage Preparation Courses
or for Marriage and Relationship Counselling
Please visit www.accorddublin.ie
St Joseph's Church Glasthule's 2021
CORONAVIRUS HELPLINE FOR OLDER PEOPLE:
0818 222 024
If you have any concerns or queries about COVID-19 
Call ALONE's dedicated support line available every day between 8 am and 8 pm
St Joseph's Church
Summerhill Road
Glasthule – A96W6D6
Sacristy: 01 6638604
Parish Office: 01 6638604
E-mail: stjosephsglasthule@gmail.com (General)