st josephs's church glasthule
st josephs's church glasthule
st josephs's church glasthule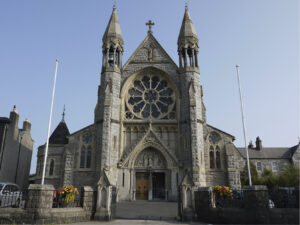 st josephs's church glasthule
st josephs's church glasthule
st josephs's church glasthule
st josephs's church glasthule
We are excited to say – St Joseph's Church Harvest Day Garden Festival will be on Sunday 29th August (with outside food stalls and drinks). tickets at this link or call The Parish Centre  01 6638604
Holy Family Parish, Dun Laoghaire, Co. Dublin
is advertising a Job Vacancy for Sacristan.
Reporting to Priest in Charge of Parish, on a part time basis Monday to Friday.  To provide a high level of support to the Parish Team and the Parish Community by being responsible for the upkeep of the Church and premises as well as to maintenance and preparation for services on a day-to-day basis during weekdays as well as other compatible duties.
Please apply with C.V. to The Administrator, Holy Family Parish Office, Kill Avenue, Dun Laoghaire, Co. Dublin., By 5.00 p.m. 10 September 2021, email: admin@holyfamilyparish.ie
Candidates shortlisted will be invited to attend a competitive interview from which the successful candidate will be chosen.
—————————
Prizes & vouchers galore – to get your Harvest Raffle Tickets: (Our church Needs your support)
or from The Parish Centre  01 6638604
Dear Parishioners, St Joseph's needs YOUR help.
We are hoping to raise enough donations of support. Setting up a small standing order is a simple and effective way of contributing regularly. St Joseph's Church receives tax credits on any payments over €250 which is very beneficial to your Tax.
A regular income allows The Parish Priest to plan capital expenditures to upkeep + maintain our Church. We can send you a form, or drop in, or simply call The Parish Centre 01 6638604 Or online:
St Joseph's Glasthule has created a Donation tab to facilitate payments to the Parish fund, the 1st Collection (Common Fund) and the 2nd Collection (SHARE).  
All donations will be acknowledged. Parish Donations go directly to St Joseph's for the upkeep of the Parish and the Parish Centre.
St Jospeh's Church Registered Charity Number is RCN 20016166
Important Announcement:
The High Security Locks Scheme is NOW available to residents 65 years+. Your Local Property Tax + County Councillors Initiatives will cover the FULL cost. For Owner/occupiers of privately-owned homes, living in the Dún Laoghaire-Rathdown area, we replace existing locks (barrels / cylinders) in external doors with high security anti-snap locks. Closing date: Friday 20th August 2021. All information/Application forms available here:
https://www.dlrcoco.ie/en/community-funding-support/dlr-pilot-high-security-locks-scheme
Forms also available from "the Community Section"
 dlr County Council  (01) 205 4893 / email: community@dlrcoco.ie
OTHER NEWS
Archbishop Farrell has set up a
Task Force under the title of "Building Hope". 
The Building Hope Task Force aims to stimulate engagement with the whole diocesan family and shape an inclusive approach to a pastoral strategy appropriate to our times.  It is intended to support parish communities to undertake a radical renewal, looking to the future with creativity, enabling the Archdiocese of Dublin to act now, to give an effective service in the years ahead.
You and you family are invited to take part in this consultation.  Please watch the video from Archbishop Farrell and join with your family to pray/discuss the future of the Church together. 
https://dublindiocese.ie/taskforce-request-for-contributions/ 
It is hoped that you might nominate one member of your family to fill out the the contributions form on our website. this form will remain online until the 18th July 2021.
Latest Guidelines regarding Weddings, Baptisms and Funerals as of 5th August 2021
Weddings: From Thursday 5th August the maximum number of guests permitted to attend a wedding will increase from 50 to 100. Current protective measures apply.
Baptisms: From Thursday 5th August Baptism services may proceed.  However, they must follow all protective measures and social gatherings afterwards should be avoided.
Funerals: The number of mourners permitted at funerals continues to be limited to 50, regardless of size of venue.
Attendance at wakes in private homes and at funeral homes is for family only.
Related family gatherings should strictly adhere to prevailing public health advice on household mixing, including visitors to your home and indoor and outdoor dining.
ACCORD Dublin has a new website. 
For Sacramental Marriage Preparation Courses
or for Marriage and Relationship Counselling
Please visit www.accorddublin.ie
St Joseph's Church Glasthule's 2021
CORONAVIRUS HELPLINE FOR OLDER PEOPLE:
0818 222 024
If you have any concerns or queries about COVID-19 
Call ALONE's dedicated support line available every day between 8 am and 8 pm
St Joseph's Church
Summerhill Road
Glasthule – A96W6D6
Sacristy: 01 2800182
Parish Office: 01 6638604
E-mail: stjosephsglasthule@gmail.com (General)